Special Offers & Online Catalogues
Check-out this page every day as this is the ideal place to find a Special Offer bargain that may only be available for a limited period. Make sure you enquire about any Special Offers prior the their expiry date.
Other unique offers on this page are the latest Catalogue items from many of Australia's leading companies, detailing new product lines and special prices on some existing lines.
This Power Farming Saleyard keeps farmers and farm contractors across the nation informed as to the latest Special Offers and Catalogue releases as well as offering a reliable forum for farmers to buy Special Offer and Catalogue items. This Special Offers and Online Catalogues section will grow along with your requirements, and will incorporate many new additions over the next few months.
WORKSHOP BEST BUYS
Catalogue date:

1/Jun/2021 Best workshop deals ever Never to be repeated. But only available with the Power farming Special Code PF1221 at checkout.
GET ALL YOUR DRILL BITS IN ORDER A great new replacement set Metric Precision HSS Drill Set IWB-40P5 25 piece set, HSS M2 bright finish, Range: 1~13mm, 0.5mm increments for just $79 (save $20 off RRP). Order Code: D1272. Top it off with a EDBD-13 Drill Sharpener3-13mm or 1/8"-1/2", CBN grinding wheel, 80W, 240V motor for just $79 (save $20 off RRP). Order Code: D070. And for quick turn-around get this Heavy-Duty Pedestal Drill Belt Driven PD-36031.5mm drill capacity, 3MT spindle, 9 spindle speeds, 1hp, 240V motor for just $462 (save $44 off RRP).
STORE THEM IN THESE CABINETS
Get all your bits and pieces in place with an Industrial Tooling Cabinet TC-750 size is 565 x 580 x 7500mm, 100kg per draw, 100kg load capacity per drawer, 75, 100 & 150mm drawer depth for just $627 (save $110 off RRP). Order Code: T764. Or for the more mobile grab thisIndustrial Series Roller Cabinet IRC-7D rides on 125mm x 50mm Industrial wheels, weighs 107.5Kg, cabinet dimensions are 1067 x 458 x 1007mm, ideal at just $715 ($110 off RRP). Order Code: T724.
FOR THE WORKSHOP BRING IN THESE BIG GUNS
Best buys with Bonus free incentives. a RAZOR 175 DC INVERTER Multi-Function Welder-MIG-MMA WITH FREE ITEM – Welding jacket and Welding gloves. 30 - 175 amps, latest IGBT inverter technology, VRD (Voltage Reduction Device), 25% @ 175A duty cycle, 240V/15 amp for just $737 ($118 off RRP). Order Code: W177. More free items a a RAZOR CUT 45 Inverter Plasma Cutter WITH FREE ITEM – Auto darkening Welding goggles. 16mm mild steel capacity, Light weight and compact, 25% @ 45A duty cycle, 240V, 15 amp for just $1287 ($66 off RRP). Order Code: C423. And to back up your new found capacity, get to work with a handy Trade Hydraulic Press HPF-20 20 tonne, 150mm ram stroke, 2-speed hydraulic ram, 175mm horizontally sliding arm, hand or foot operated pump reduced to $925 ($120 off RRP). Order Code: P150.
GET EVERYTHING INTO POSITION
Get this hard working PT-2500 Hydraulic Pallet Truck 2500kg lift capacity, 1220mm fork length, lift height 85 - 195mm for $341. ($66 off RRP) Order Code: J061.
NEAT AND CLEAN
Add this versatile WDV-8 Industrial Wet and Dry Vacuum Cleaner 2 x 1200W = 2400W 240V motors, Portable on wheels, 80L stainless steel tank, Include: brush, crevice tool, wet & dry floor nozzle for a bargain $396. ($77 off RRP) Order Code: V508.
PERFECT ALL ROUNDER
And to top off everything, get a compact CM-300 3-in-1 Pressbrakes, Guillotines & Rolls 300 x 1mm steel capacity, Cast iron construction, Segmented pressbrake blade, Wiring groove rolls for only $349 ($47 off RRP). Order Code: S648.
This is just a small selection from thousands of items with genuine price reductions available from Hare and Forbes. TO GET THESE DISCOUNTED PRICES, AND A FREE BONUS WITH SOME ITEMS, JUST ADD THE PROMOTIONAL CODE PF1221 AT CHECKOUT.
View and purchase online now, sale ends on 31 December 2021 machinery house website or call now in your state as follows: SYDNEY (02) 9890 9111 BRISBANE (07) 3715 2200 MELBOURNE (03) 9212 4422 PERTH (08) 9373 9999.
Call NOW, and mention Power farming code PF1021 and go straight to the top of the class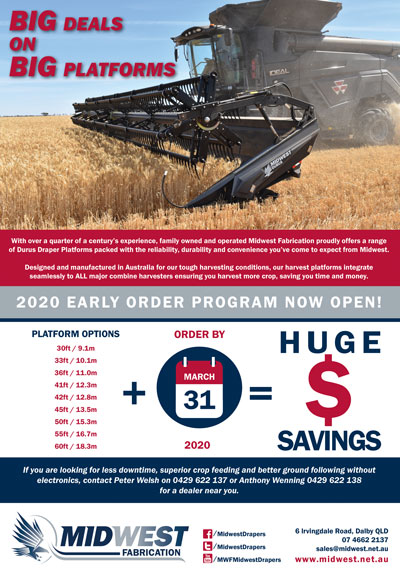 Midwest Early Order Program - SPECIAL OFFER BE QUICK
Catalogue date:

1/Mar/2021 There are four reasons why farmers are switching to a new Midwest front
1. Size matters Looking for less capital outlay, less fuel and less labour costs? Our large widths achieve up to 33 percent more with every pass. Our draper widths range from 25 - 60ft integrate seamlessly with all combine brands and are able to suit brands to suit 12m, 15m, 16m or 18m controlled traffic systems. The efficient design, allows your combine to travel at optimum speeds, boosting productivity and covering more ground.
2. Made for Aussie conditions American and European farming conditions are very different to ours. Farmers need a front that is built in Australia, designed by Australian farmers, for Australian conditions. Midwest's patented flotation system has active ground following that handles Australia's fast ground speeds and light crop conditions. Our mechanical drive system ensures cutting power under the toughest conditions. We test our products on our own farms and we talk regularly with our network of farmers and contractors- from Perth in the west, to Geelong in the south, Mackay in the north and many farming districts in between. We know what's working, what isn't, and we are hands-on in our factory so we can tweak our designs to suit.
3. No fiddly computers and sensors When you're in the midst of a busy harvest the last thing you want to do is have to stop while you wait for a technician to read an error code, or have a sensor preventing you from getting an efficient close cut. Midwest's instant response float system uses pressurised air to achieve optimum ground tracking. Our unique design is free of problematic sensors and computers.
4. National support network We re-jigged our whole dealer network a few years back, so now we have a team of dealers in 90 key geographical locations across the country who are committed to stocking a comprehensive range of Midwest parts at competitive prices. Parts kits can be bought ahead-of-harvest to have on hand, or you can access parts via our online catalogues and same day shipping.
Plus order now to get an early order program reduced price.
HURRY OFFER ENDS SOON
Call Midwest Fabrication today to discuss the early order program. Ring Peter Welsh direct on 0429 622 137 or Anthony Wenning on 0429 622 138, or the factory on Tel: 07 4662 2137, or email: sales@midwest.net.au or see the full line at Click here.